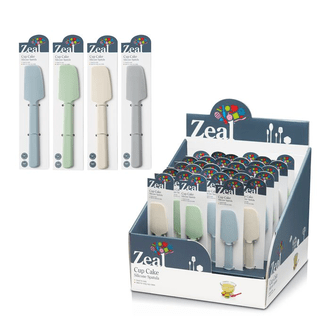 Zeal Cupcake Silicone Spatula
Zeal
$13.00
or 4 interest free payments of $3.25 with
learn more
The Zeal Bright Silicone collection of kitchen utensils and essentials feature a durable and heat resistant silicone construction to make your food preparation tasks that much easier.
Each piece is made from durable silicone for its flexibility and versatility in the kitchen, and its suitability for use on non-stick cookware. From preparing batter, flipping pancakes, smoothening icing, stirring soups, and more, these utensils are a must have for every kitchen!
Complete the Zeal Bright Silicone utensil collection with an assortment of spatulas, basting brushes, tongs, turners, cooking spoons, and more. Available as a separate purchase.
Features:
Individually sold
Made from silicone
Measures 15cm x 3cm x 1cm
Flexible head makes it suitable for baking, icing decoration, and more
Safe for use on non-stick cookware
Dishwasher safe
Available in Pale Blue, Pale Green, Cream, Grey
Please Note: Colour will be selected at random unless indicated at checkout.
SKU: J303